For the last 18 odd years, I have dyed my hair.
I literally have no clue what the natural colour of my hair is, if indeed it does actually have colour at all. At this point, I wouldn't be the least bit surprised if ti actually resembled one of those fibre optic lamps from the 80's. Sort of hollow and quite pale.
When one dyes one's hair for that period of time, depending on the colour and process of course, the condition has a tendency to fluctuate.
Mine is largely dependent on the quality of product I use on it I have learned. I find that most synthetics tend to make it a bit crispy, and a bit difficult.
Rahua (pronounced Row-ahh) has absolutely none of these in any of their products, boasting a miracle oil from the Amazon that strengthens the hair from the inside, and repairs and revitalises. Any of the products has this ingredient, and having used the shampoo and the conditioner for a bit, I can vouch for it's non heavy, life giving goodness.
The new Hair Detox and Renewal Treatment kit is 100% organic, vegan, cruelty and gluten free.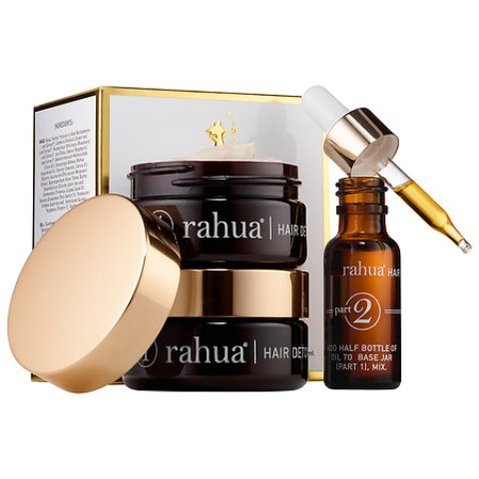 Obviously with these credentials, it is a lot gentler on the scalp and hair than most other hair 'detox' products. Designed to gently break down any of the build up that occurs with any haircare, and environmental damage, and also treats the scalp and hair, and genuinely makes it feel like babies hair. I have never seen my hair look so shiny, or move quite how it did after one use. I suspect this was more to do with the conditioning element rather than the detox, but hey ho. I'm happy either way.
It comes with two pots, of which you add half of the oil into one, and use that. Then whenever is necessary, use the other half on the other pot and done. I have relatively short hair, and have used the same mixed pot twice, and the effect is the same, so don't fret about it 'going off' or being unuseable once the oil is added. Especially given the price!
This is definitely a luxury treat, a bit of a caviar boost for the hair, as I say given the price. But twice a year, and that should be plenty IMO. Do try it. Your hair will thank you.
Rahua Hair Detox and Renewal Treatment kit, Available at Liberty, Urban Retreat Harrods, £88.