I am writing this being slightly battered and bruised after having worked at a music festival over the weekend.
I am NOT a fan of festivals, or certainly haven't been. I have a simple rule No hairdryer, no holiday, so as you can probably imagine, they are not my first choice of places to be of my own free will. However, working them is an entirely different kettle of fish.
Whilst I was working (in a very hot an humid tent) I realised that there were some things I had with me that turned out to be life savers, and some that I wished I'd brought!
The below is generally aimed at makeup artists, but I do realise that this is entirely applicable to attendees also.
MakeupForEver Flash Colour Palette, Guru Makeup Emporium.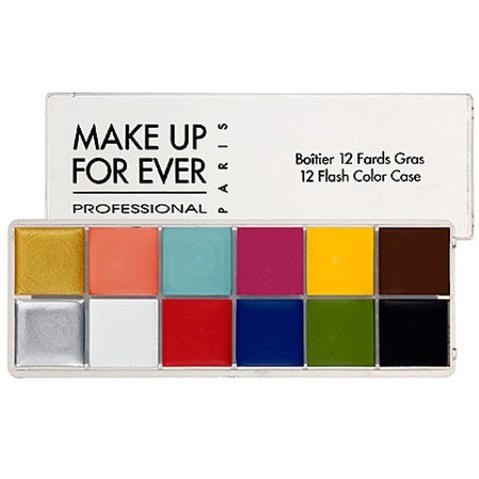 Save for the already excellent foundation palette they have in the same format, this is the most useful thing I have in my kit ever. The colours are essentially greasepaint, but super highly pigmented. So good for amping up colour in lipsticks, on the face, as beard cover, as a colour corrector, all sorts of uses in one. Mix the colour with IPA and it makes it a little more resistant to smudge as well. Life saver.
Urban Decay All Nighter Fixing Spray. Debenhams
Again, a good tool to help any makeup stay put! I have used many of these, and this is the most peasant to use in a normal makeup environment (there are ones that are A LOT stronger, but I'd only really use those on prosthetics etc..). UD have also cleverly got them for different skin types, so one for everyone here. Again, essential.
Travel Fan, Amazon?
I didn't actually have one with me as I completely underestimated just how humid a tent in the sunshine would get. I know right? However I normally have one of these that I can clip to something, like the edge of a table, or a mirror, so me and the talent can at least feel like we're getting some air, they're so inexpensive and invaluable. I think I got mine from Amazon, but you can literally google travel fan with clip and a ton come up.
Wipes!
I am a sweater! At the gym, walking about, any kind of activity really.
I often see people being much more active than me, and wonder how the hell they are not drenched in the same way I am. As such, and in the absence of an available shower, these are also pretty darn essential. I went through about 2 boxes of the 4711 Eau de Cologne Tissues (available at Boots) in a 16 hour period. I have loved this scent since I was a kid (I grew up in Germany and this was pretty much everywhere) and these are absolutely perfect for taking away that awful close clammy feeling. The zingy scent cuts right through it. The same with the Hermes Eau D'orange Vert wipes. On the expensive side at £20 a box, but they are a bit larger, and have exactly the same effect of cutting right through any not-so-fresh feeling.
This Works In Transit First Aid, £15.
Last but by NO means least was this.
Working in a hot tent, and running between different stage, through wildlife we were all a bit burned and bitten. One artist was actually stung by nettles!
This was an absolute lifesaver!
Fist aid as the name suggests this is a go to for any thing that might irritate until you can get to something else. The other bonus is it being almost entirely natural, containing lavender geranium and rosewood essential oils to soothe, calm, and relieve. This is a multi use that went on my bites, the artists legs when she got stung, and any little nicks that happened on the day. Amazing smell, and an amazing product..
The festival was the awesome Electric Daisy Carnival in Milton Keynes. If you want to see pictures of that and what I did there, take a look at my Instagram here https://www.instagram.com/p/BHrDh7yBoaP/?taken-by=lukesmua